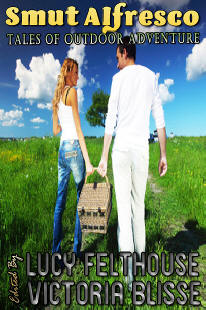 From the dramatic gritstone escarpments of Derbyshire's Peak District, to a quiet caravan site in deepest Wales, Smut Alfresco has it all. Whatever your interpretation of frisky outdoor fun, there's something nestling between the covers for you.
Sexy woodsmen, daring couples, rock stars, cougars, map enthusiasts, mattresses, ex-lovers, tour guides, hunky sheriffs and nature reserve rangers all appear in this hot collection of stories from erotica's finest authors.
Smut in the City contains tales from Violet Fields, Bel Anderson, Lucy Felthouse, Demelza Hart, Victoria Blisse, Kay Jaybee, Jacqueline Brocker, Tenille Brown, Wendi Zwaduk, Katey Red, Jenny Lyn, Tilly Hunter, Nicole Gestalt and Cass Peterson.
Private Hideaway
Nothing will keep Torin from the woman he loves.
Torin Michaels isn't about to let his celebrity status ruin the fragile relationship he's built with his lover, Zoe. But the pressures of fronting his band Rampage has taken its toll. So what's a guy to do? Run away to a secluded cabin for white hot sex outside, out of the prying eyes of the public. Will these two get their happily ever after or will forces beyond their control ruin their bliss?